Let everything that has breath praise the Lord!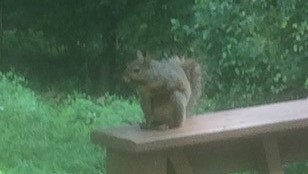 We would like you to meet our furry friend, Mr. (or Mrs.) Squirrel, who sits on our deck railing most mornings as we eat breakfast. Some mornings our friend eats an acorn; most mornings, he appears to sit prayerfully as we bless our food and eat.
One afternoon as we were enjoying some time on our enclosed porch reading, Terry suggested we listen to Pastor Andrews' message from the previous week. Soon after we began listening to the Old Testament lesson about Joseph, we realized that our little friend was once again sitting on our deck railing, and appeared to be listening intently to Pastor Andrews' message. Terry noticed a hawk circling overhead and feared for the safety of our friend. But Mr. Squirrel sat quietly and almost motionless for the entire message, before going about his "squirrelly" chores. And the hawk flew away, without interrupting or hurting him.
A lesson from our furry friend of the importance of hearing and studying God's Word. A joy to be reminded of God's love for and care of His creation!
And God said, "Let the land produce living creatures according to their kinds: . . . the creatures that move along the ground . . . And God saw that it was good. —Genesis 1:24 (NIV)
Karen & Terry Bowen